The Zauberberg German Shepherd Breeding and Training Blog is intended to keep all interested German Shepherd enthusiasts informed about newest dog training techniques, available German Shepherd Dogs for sale and any related events at www.zauberberg.com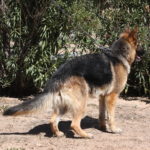 Zauberberg Kennels is more than pleased to share all information provided in more detail if you inquire here
The ongoing research and practical observation being applied by us, makes Zauberberg Kennels a unique source in all aspects of the German Shepherd from training and breeding to raising a German Shepherd Puppy successfully!
You should take advantage of the free value by subscribing to our website at the bottom of the home page. It will automatically notify you of any new postings whether it be about training, nutrition, dogs available or upcoming litters.
Our YouTube Channel provides you with even more information at random pace. You can witness training in progress!