Trained German Shepherds for Sale
Trained German Shepherds for sale "vom Zauberberg" come with highest level off leash obedience trained in real life scenarios for house hold and social life. Our trained German Shepherds for sale are covered by life time support for training and maintenance guidance. They come with unlimited AKC registration, vaccination record and are micro chipped!
A "working dog" is a dog that wants to interact with- and please you. Owning a well trained German Shepherd working dog, means owning a great family companion giving you peace of mind that that your family is safe!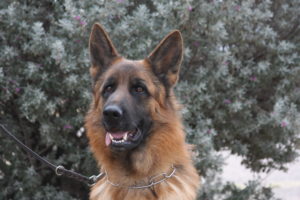 In addition , Protection Training is available on your request, after you have committed to a particular Dog. None of the German Shepherds offered for sale on this page, has been exposed to formal Protection Dog Training. We experienced that trained protection dogs can miss perceive a situation in a brand new home. If you are planning on having the dog of your choice protection trained, it is required that you come to our facility in person and spend time with your dog prior to taking him home.
03, 13, 2016
Comments Off

on Ivy trained German Shepherd Female for sale





Ivy is a very well structured German Shepherd Female with excellent black and red color. Her substance and size is very much the top of the German standard. She is a very active dog that loves people. Her pedigree consists of exclusive top West German Bloodlines. Date of Birth: Nov 27-2012 Sire: Roy vom Ochsentor Dam: Leila […]
Take a Tour