The best Cairn Terriers for sale in Scottsdale Arizona "vom Zauberberg" are healthy and super intelligent. Unlike other Cairn Terrier Breeders, we sell with shots up to date, micro chipped and unlimited AKC registration. We discovered years ago when we just owned a Cairn Terrier, that they are the most versatile small breed of dogs.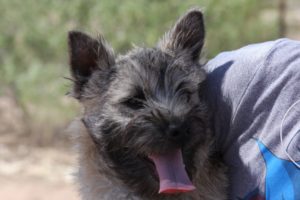 Our Cairns stand their ground and establish respect even when playing with our big German Shepherds. Cairns are very easy to handle. They have high play- and food drive and are always ready. On the other hand they love to lay on the couch with you and relax. Compared to other hunting dogs, their temperament is very outgoing and cordial with human beings. The desire to hunt rodents is completely balanced with the desire to be with you. Our Cairns come in different colors, but always have the cutest expression on their faces. The coat is always of the correct texture, that is typical for Cairns.
Please contact us now or call 520-419-2199 to start the process of making you a proud owner of the best Cairn Terrier in health and temperament!